The best iPhone 12 Pro Max cases to protect your Apple device
By: TechRadar
June 15th, 2021
Click here
 to read the full article
The best iPhone 12 Pro Max cases to protect your Apple device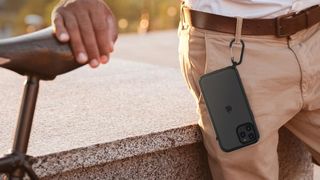 (Image credit: Catalyst)
Choosing the best iPhone 12 Pro Max case you can afford is a savvy move if you've just invested in a shiny new iPhone 12 Pro Max. Apple's largest iPhone is one of the best smartphones you can buy. It's also one of the most expensive, and with the sleek design offering little in the way of grip, a protective case is a must.
We've dug through the options to showcase a selection of the finest iPhone 12 Pro Max cases around, to ensure your device's gorgeous design and huge display stay in one piece. (If you need a case for an iPhone 12 or 12 Pro, you'll need our guide to the best iPhone 12 cases instead.)
We haven't had all of these iPhone 12 Pro Max cases in our test labs yet, but based on our experts' opinion and knowledge of the most reputable brands around, we think the options curated here are all worth looking at. Our selections take into account online reviews, brand reputation, product capability, and any unique features.
To help you find the right case for your iPhone 12 Pro Max, we've split our guide into handy sections - MagSafe cases, designer cases, battery cases, and so on. You can either jump straight to the type of iPhone 12 Pro Max case you want to see our top picks there, or browse the lot in one go.
MAGSAFE-COMPATIBLE IPHONE 12 PRO MAX CASES
Apple's magnetic wireless tech allows for faster, more consistent wireless charging, and gives you the option to snap on an ecosystem of fresh accessories. Most MagSafe cases are still made by Apple at the moment, but third-party makers are quickly catching up with their own MagSafe-compatible options. Here's our pick of the best MagSafe iPhone 12 Pro Max cases.   
1. Apple Silicone Case with MagSafe
Apple's Silicone Case with MagSafe is a lightweight item that's designed to protect your iPhone 12 Pro Max from scratches and drops. It snugly fits the contours of the device, and offers the ability to add Apple's magnetically attached card holders and card mounts to the back. Of course, the real draw is fast MagSafe charging, and if you have one of Apple's new chargers to take advantage of it, you'll find a more stable and secure charge.
2. Apple Leather Case with MagSafe
Leather cases age well, and when it comes to getting a snug fit you can't beat Apple's own leather case for the iPhone 12 Pro Max. Stylish, smart and with no extra bulk, it's soft to touch and comes in a range of colors. The specially tanned and finished leather gives more protection than silicone, and of course true MagSafe compatibility means you get fast wireless charging and access to Apple's ecosystem of accessories.
3. OtterBox Figura Series case
Being exclusive to the Apple Store has its advantages, and OtterBox's cases were some of the first to support MagSafe wireless charging and accessories. Offering a more artistic touch than the standard Apple Silicone case, the Figura Series has a two-tone, painterly aesthetic that looks great in all four colourways. The soft-touch material is comfortable to grip, and your screen and camera are protected by a raised ridge, too.
4. Spigen Mag Armor Case
Spigen is a well-respected brand that crops up a few times in this guide, and for good reason. Its MagSafe Mag Armor case is a winner, offering the company's usual air-cushion technology, backed up with a slim design and a textured back panel for increased grip. In fact, despite being MagSafe compatible, the case adds just 0.12-inches of added thickness to the iPhone 12 Pro Max. It only comes in black, but makes a good alternative to Otterbox's vibrant offerings.
5. Mous Limitless iPhone Case
The Limitless iPhone 12 Pro Max case from Mous is thicker than Apple's MagSafe cases - giving you increased drop protection - and offers raised edges to protect your display. It also comes in some pretty smart designs, including wood panelling. However, while this case offers faster MagSafe wireless charging, the extra thickness means it won't work with official MagSafe accessories. (Mose makes a wide range of its own magnetic accessories though.)
6. Apple Leather Sleeve
Apple's top-line iPhone 12 Pro Max case offering is, as you'd expect, a perfect fit for your phone. The supple leather exterior may make it a little too large for some pockets, but it provides good protection; plus a handy strap makes it easier to keep with you. Then there's a useful window that shows the time, and a pocket to store your credit card. There's also MagSafe compatibility for charging and added accessories. This luxury leather sleeve isn't cheap - but it'll last.
IPHONE 12 PRO MAX DESIGNER CASES
A designer iPhone 12 Pro Max case will protect your device - and look fantastic as well. Whether you're looking for a cool print from a big name, the option to personalize your case, or more, we've got your covered. Here's our pick of the best premium, designer phone cases for your iPhone 12 Pro Max. You'll also find plenty of designs from up-and-coming artists over at Etsy.
1. Ted Baker Lipsniy Antishock
There are plenty of Ted Baker iPhone 12 Pro Max phones cases to choose between, but we particularly like this bold, geometric lips print. It comes with impact bumpers to protect your device from accidental drops, and while there's only one colourway - navy and yellow - it looks great. If you want your phone to stand out with an affordable designer case from a well-known brand, the Ted Baker Lipsniy is a top choice.
2. Swarovski Glam Rock Case
If you want your phone to make a statement, then look no further. TThis Glam Rock case from legendary jewelry brand Swarovski is covered with glittering crystals, but they won't interfere with wireless charging (albeit, no MagSafe here). There are four different colors to choose between, and 'invisible' bumpers offer protection without adding any unnecessary bulk. That shiny back panel is made of polycarbonate, too.
3. Kate Spade Jeweled Daisy Dot
Add some cheerful summer vibes to your device with this classy Kate Spade iPhone 12 Pro Max case. Made from resin, it features a bold daisy pattern with eye-catching gem accents, set on a stripy black and white background, with the brand name gold-foiled printed on the back. There isn't a great deal of information as to its specs - so we don't know how protective this case is - but we love the lively design.
4. Maison de Sabre The Phone Case
This slimline case from Maison de Sabre comes in a variety of different colors and offers free monogramming, so you can add a name or initials for a personal touch. Aside from that, the premium pebbled leather looks great and wraps all sides of your phone. That means there's plenty of protection, as well as grip, and it still supports wireless charging, too. A suede inner lining also helps prevent your prized phone from being scratched inside.
5. Palm Angels Exodus Case
Palm Angels' Exodus case is intended to 'make your technology more of an accessory', and it's hard to argue with its predominantly black finish and three retro color stripes, which certainly catch the eye. The label is inspired by the LA skateboarding scene, and the case features the brand's signature gothic font. However, looks aside, it's hard to tell how much it would protect against a drop - there isn't much spec info.
6. Valentino Garavani Case
The sleek Valentino Garavani Leather VLTN Times case for iPhone 12 Pro Max is instantly recognisable, with the luxury Italian label's branding on the back panel making an eye-catching typographic pattern. And it's designed to be seen, too, with a secure lanyard strap attached so you can check it out from any angle. All this craftsmanship comes at a cost, of course - this is one of the pricier cases in our guide.
IPHONE 12 PRO MAX BATTERY CASES
iPhone battery life has steadily improved over the last few generations, and the 12 Pro Max is no different. It's powered by a 3,687 mAh battery, which we found easily lasts until the end of the day. That said, there's a big difference between that and knowing you'll be going a few days without a power outlet. The following cases will keep your phone topped up in those situations. 
1. Zerolemon 10000mAh Case
Sure, it looks like something from a mid-seventies sci-fi movie, but this Zerolemon case has a sizeable ace up its sleeve: a 10,000mAh battery. That's an enormous improvement of 180% on the phone's already solid battery life, meaning it'll keep you going for days without a charge. If you can handle the heft, the Zerolemon 10000mAh Battery Case is ideal for adventurous types who need protection and power in equal measure.
2. Newdery Battery Case
This Newdery battery case for the iPhone 12 Pro Max comes with a 4,800mAh battery, which isn't the biggest in our guide, but should still almost double the run time of your device. Unlike lots of other battery cases, this one supports Qi-enabled wireless charging, so you can charge the case and phone with a wireless charging pad like the Magsafe Charger. It'll also work with all your iPhone accessories, including headphones and Airpods.
3. Punkjuice Battery Case
In lieu of any Apple-made battery cases for the iPhone 12 Pro Max, Punkjuice's battery case offers a comparable form-factor and solid protection, plus the choice of five different colors. The battery has a 4800mAh capacity, and adds up to 28 hours of talktime to your iPhone. It provides all-around protection and a screen protector is included; there's even a USB port to charge other devices - including Android phones and more.
4. Aonimi Battery Case
Battery cases can often add an extra degree of bulk to a phone, but this Aonimi effort is so sleek you'd be forgiven for not expecting there to be a battery inside at all. But not only is there a 7,800mAh battery that'll double your iPhone's battery capability, there's also a nifty series of LED indicators so you always know how much charge is left. Plus there's anti-short circuit functionality and over voltage protection.
5. Mophie Juice Pack Connect
If you're looking for an optional power pack that's reserved for when you need it, the Mophie Juice Pack Connect is a great choice. With a 5,000mAh capacity, it can be attached or detached as you need it. It connects to what Mophie calls an 'anchor', which offers a kickstand when the pack isn't attached. It charges through a slimline case which you'd need to buy separately, but the modular design will appeal to many.
6. SNSOU Battery Case
It's tough to find a battery case that isn't black, but this option from SNSOU comes in pink and blue (as well as black), and has a 7000mAh battery. A minority of users have complained about their cases not working well after a few months - so if you don't care about color, we'd recommend the options above instead. Still, this case averages four out of five stars on Amazon and there's a 12-month money-back warranty.
IPHONE 12 PRO MAX CASES WITH CARD HOLDER
If you like to travel light, or just don't have as many pockets as you need, then doubling your iPhone up as a wallet is an easy way to save space. We've curated a selection of iPhone 12 Pro Max cases with handy hidden compartments, card holders, and more, in a variety of styles for different tastes and budgets. 
1. Incipio Stashback Case
While many iPhone cases offer a card holder (or in Apple's case, an optional attachment), Incipio's Stashback case makes your cards accessible from the front of the device. It does this via a sliding mechanism, as you can see in the image, but that doesn't come at the cost of protection. In fact, with scratch-resistant material and a raised edge around the screen, this case promises to keep your phone in one piece for drops up to 14 feet.
2. Arae iPhone Wallet Case
This budget Arae case has a lot of features. It promises all-round protection for both your phone and your included cards, with RFID protection against card 'skimming' devices. Then there's internal space for multiple cards and/or cash, as well as MagSafe compatibility. We've seen a few complaints about the magnet strength and wireless charging, though, so if MagSafe compatibility is a deal-breaker, try the options further up our guide.
3. Bellroy Case with Card Holder
Bellroy's integrated card holder in this iPhone 12 Pro Max case is a great way to hide valuable cards or identification, but it can also double up as a kickstand for lengthy media playback sessions, too. Made from environmentally certified leather, this slimline phone case comes in a choice of eight different colours, with polymer edges for added drop protection and an internal microfiber lining. If you want subtle card storage, it's a top choice.
4. Lopie Slim iPhone Card Case
Lopie's iPhone 12 Pro Max card holder is halfway between a leather case and a fabric-based one. That means it'll feel great when you hold it, but it's not likely to protect the top half of your device as much as other options in our guide. That said, your cards are kept handy for easy access, but if you're something of a butterfingers, you would be better off choosing an iPhone 12 Pro Max case that's a little sturdier with better protection.
5. Smartish Wallet Slayer Vol 1 Case
Smartish's Wallet Slayer does exactly what it says on the box, with space for a trio of cards and room to spare for some cash, too. That's all wrapped in a colourful design with textured grips on the sides to prevent against drops - and protective air pockets in the corner to reduce damage if you do. In fact, the only thing it can't do is allow for wireless charging. If that's not important to you, though, then this is a great choice.
6. Apple MagSafe Leather Wallet
The Apple MagSafe Wallet is made from specially tanned and finished European leather, and magnetically snaps onto the back of your phone. It fits three cards, and is shielded so it's safe for credit cards. As you'll see, it's an accessory, rather than a case, but if you don't mind spending the extra cash you can pair it with a clear, silicone or leather case for a unique look. We love the bright range of colors - it's pricey for what it is, though.
IPHONE 12 PRO MAX RUGGED CASES
The iPhone 12 series of phones have the toughest iPhone screens so far, but they're not unbreakable. If you work or play in rough conditions, are prone to drops, or simply like to take really, really good care of your iPhone, these rugged cases will do the job. Not only will they help protect that huge display, they offer plenty of smart tricks for the rest of the phone, too. 
1. OtterBox Defender Series
Otterbox leads the charge for rugged cases. Its iPhone 12 Pro Max Defender Series case offers a polycarbonate shell to protect against drops, an antimicrobial technology to prevent against bacteria, and an included 'holster' doubles as a belt clip and hands-free kickstand. It does add some heft around the outside of the case, but if you're not likely to keep your phone in your pocket, it's ideal.
2. Speck Presidio2 Grip Case
Speck's Presidio2 case is packed with clever tech, including an airbag-inspired "armor cloud" to prevent damage from a drop, and a soft-touch (but still very grippable) finish. Perhaps most interesting is the company's Microban protection, which reduces bacteria growth by 99% on the case – particularly beneficial in the current times we live in. There's a choice of four different colors.
3. Urban Armor Gear Civilian 5G
The Urban Armor Gear Civilian case offers impressive protection. Using 'HyperCush' technology to absorb impact but with an impressively light construction, it's compatible with wireless charging and meets military-standard drop tests. The more tactile sized buttons offer a satisfying 'click' as well, although some users have reported that it's not the easiest to grip.
4. Catalyst Influence Series
This delightful offering from Catalyst offers a solid, slimline case with built-in air cushions, as well as the option to add a wrist strap, carabiner, or shoulder strap to multiple different spots. We like that it's customizable, with swappable buttons and straps of varying colours. But even if those aren't your thing, the sleek design and drop protection make this a solid choice.
5. Rokform iPhone 12 Pro Max Case
Featuring an industrial-grade magnet that lets you attach your phone to anything magnetic, this case also has a powerful twist lock, so you can mount it to your vehicle of choice - anything from a motorbike to a stroller. Combine this with the ability to survive accidents to military-grade drop test standards, and a raised protective bezel, and your iPhone 12 Pro Max will be very secure.
6. Raptic Shield Case
Despite the low price, the Raptic Shield Case for iPhone 12 Pro Max offers military-grade protection for drops up to 3m. It has a raised lip to protect the screen, with a hard polycarbonate shell on the outside and a soft rubber lining to absorb any shock from sudden impacts. We especially like that this protective case bucks the usual rugged trend by offering a range of jazzy colors to choose between.
THE BEST IPHONE 12 PRO MAX CLEAR CASES
The iPhone 12 Pro Max is a beautiful device - and if you picked up one of the more colorful variants, you'll want to show it off. These clear cases may lack in opacity, but they'll do a great job of protecting your phone.
1. Gear4 Crystal Palace Case
If you want to make your phone bulletproof, then you can do a lot worse than this Gear4 effort, which actually uses the same material as bulletproof glass. This case has a slim design with bevelled edges for increased protection, and its soft-touch design adds just the right amount of grip. It also offers the company's own antimicrobial treatment to kill bacteria using a special coating.
2. Mous Clarity iPhone Case
This Clarity offering from Mous offers no-nonsense protection in a slim, crystal-clear case. Aside from the bumper, which allows for the company's patented AiroShock impact absorption tech, it's entirely transparent and comes with anti-yellowing UV-resistance to ensure it stays that way. It also offers scratch protection, and has a raised front lip to keep the screen safe - all in a super-slim design.
3. Speck Presidio Perfect-Clear Case
The Speck Presidio Perfect-Clear case is a top choice for anyone looking for a slim, clear case. Anti-yellowing materials will keep it looking transparent (if you buy it directly from Speck, they'll replace it for free if it doesn't stay clear) while embedded glitter crystals help resist scratching. Plus it's thin enough for wireless charging, and with up to 13-foot drop protection too, there's a lot to like here.
4. Casetify Custom Phone Case
Likely the iPhone 12 Pro Max case of choice for many of your favourite influencers, Casetify's Custom Phone Case is merely a starting point - you can add text in different colors, fresh designs, or keep it simple. Some options are pricier - you'll pay more for 'ultimate protection', for example - but with MagSafe compatibility, whatever you opt for you'll be able to charge faster and more reliably, or add a card holder too.
5. Totallee Clear iPhone Case
A case so thin it's almost like going caseless, the Totallee Clear is just that: clear (unless you opt for a color version). The only indication you're holding it is that there's a rubbery grip to ensure your phone is easier to hold. With a raised bump to protect your camera module and a raised bezel to protect the display, it's got all angles covered - still, if you're prone to drops you'd be better off with a more robust option.
6. ESR Metal Kickstand Case
This ESR case might not be entirely clear, but the single metal band across its back panel acts as a nifty kickstand in both portrait and landscape modes. That makes it ideal for video calls or watching YouTube content on a table. It supports wireless charging, too, and features raised edges to protect the screen and your camera system, plus there are Air-Guard corners in case you drop the phone.
IPHONE 12 PRO MAX LEATHER CASES
A leather case is one of the most effective ways to protect your iPhone 12 Pro Max, while also offering a real touch of class. Here's our pick of the best iPhone 12 Pro Max leather cases out there - with a few vegan-friendly options too. 
1. Apple Leather Case with MagSafe
Apple's own leather case is stylish, smart and offers a nanometre perfect fit for your iPhone 12 Pro Max. Made from specially tanned and finished leather, it's soft to the touch and fits snugly over your device without adding extra bulk. Also, because its MagSafe compatible, you get fast wireless charging and access to Apple's ecosystem of accessories - including the MagSafe Leather Wallet, which pairs wonderfully with this case.
2. NOMAD Rugged Leather Case
Put this sleek leather case through the wringer and it just looks better. Ideal for people with active lifestyles, it's packed with protective measures - 10ft drop protection, a shock-absorbent internal bumper and a raised lip - but the real draw is that the leather will develop a gorgeous, rustic patina with age. The only thing missing is full MagSafe compatibility: there's wireless charging but the magnetic connection is weaker with a case on.
3. Le Marche Detachable Wallet
This sophisticated, snap-on leather case from Le Marche wins on the versatility front. The detachable folio connects via magnets, so you can choose when to use it as a wallet. There are four card slots and space for cash, plus it has RFID protection tech to prevent fraud. It can also be folded into a handy kickstand for watching media on the go. There's a decent range of colors and patterns too, although we'd have liked to see even more.
4. OtterBox Strada Series Case
This 'folio' style leather case from big-name brand Otterbox is as durable as it is smart. The company's cases have long offered impressive drop protection, and the same applies here, but the 'lid' that closes over the display is held by a magnetic latch, and it incorporates a card holder with space for two cards or cash, too. On top of that, there's wireless charging, although no MagSafe.
5. ESR Metro Series Real Leather Case
ESR has always offered a series of solid, affordable cases, but it turns out the company's premium options are great, too. The ESR Metro Series Real Leather Case is a grippy, fingerprint resistant, no-nonsense option, with a microfiber inner lining, and it looks great - as long as you're okay with black. Still, its leather will develop a smart-looking patina over time, to make the case uniquely yours.
6. Cyrill Leather Brick Case
This leather case from Cyrill is anything but a cumbersome 'brick'. In fact, it adds just 0.1-inches of thickness to your iPhone 12 Pro Max. The faux leather comes in four different colors, plus it offers MagSafe compatibility and a microfiber inner lining to prevent scratches. It's a budget case, and we have seen a few complaints about wireless charging - but the majority of user reviews are positive.
---